Q&A Forum:
Tax Experts Explain Supreme Court Decision on Nexus
The Supreme Court ruled in favor of South Dakota, granting the state authority to impose sales tax obligations on out-of-state transactions. Remotes sellers will have a new set of obligations and challenges ahead of them, while states could potentially gain billions in revenue. But what does it mean for your business?
We brought in two leading tax policy experts to break down the ruling and explain:
Whether remote sellers need to file and register in more states
How the ruling affects future laws across other states
How to determine whether you're on the hook for sales tax based on where you conduct business
Q&A from audience
This is one event you can't afford to miss.
Watch the webinar Q&A Forum: Tax Experts Explain Supreme Court Decision on Nexus
Watch the Webinar Now!
Duration: One amazing hour!
Cost: Nothing

About the Speakers
Scott Peterson, Vice President of Tax Policy and Government Affairs
Scott Peterson was the first executive director of the Streamlined Sales Tax Governing Board. For seven years Scott acted as the chief operating officer of an organization devoted to making sales tax simpler and more uniform for the benefit of business.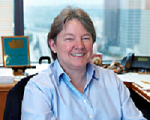 Rachel Le Mieux, CPA, CMI, SALT Partner at Peterson Sullivan LLP
Rachel has been practicing in state and local taxes (SALT) since 1985. She is a certified public accountant and a certified member of the institute (CMI) for professionals in state and local taxation. She consults with clients in a broad range of industries on state and local tax issues involving sales and use taxes, gross receipts taxes, income taxes, and other miscellaneous taxes.